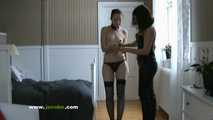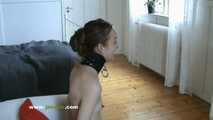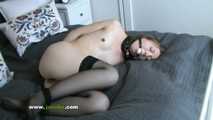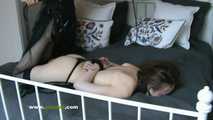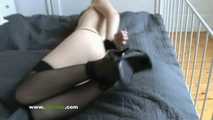 Lady Juliette has today some challenges for her slavegirl Pling.
Pling has to go with a book on her head. Absolut important for Pling, that the book doesn't fall down. And it's not easy for her. Her hands are tied behind her back. She wears high heels and a slavecollar.
The first challenge is no problem for Pling.
Lady Juliette brushes the long hair of her slavegirl.
The next challenge is to eat some cream from a plate. The plate stands on the floor. Pling has to kneel down. No hands are allowed. Her hands are tied on her back again.
Now Pling tries to eat the cream from the plate.
After this Lady Juliette allows a break. Pling has to sit down. Lady Juliette brushes again the long hair of Pling. After this she feeds her with a spoon. There is still some cream on the plate.
The 3. challenge for Pling is to struggle so good she can. She gets a ballgag. Her hands and feets are tied to an hogtie.
The question is if Lady Juliette is satisfied with her slavegirl.